Supported by

Individuals Participating In Physical Activity Pass Access Programs
Individuals Participating In Physical Activity Classes and Community Events
Individuals Educated on Community Resources + Free Community Events
Total Number of Individual Interactions w/ Community Members and Stakeholders
About This Campaign
The community of collaboration is the headliner of this wide-open wellbeing tour, strengthened with unique genres of radically different paths that lead to greater access to fitness. It's a festival of glorious partnerships rooted in gratitude meeting people right where they are on their journey! 
Our best idea was to open this opportunity up to everyone and invite them to think freely while we issued a full creative license to dream big. What we received blew us away – people who are deeply passionate and fully committed to elevating the community by sharing their craft through Fitness & Fun awards. Holding HUNDREDS of FREE events over the summer gave people a wide variety of options to find fitness and create supportive pods in the community to address issues relating to well-being, especially weight and diabetes. An additional level of partnerships evolved as a new community calendar was utilized by additional partners: medical providers, state parks, county government, chamber of commerce, state office of outdoor recreation, and community action to further increase access.
Check out Jessica Mae Wilson's compelling story on the Wall of Love as you watch her video and learn about how she's working in her Habitat for Humanity Community to create a safe and accessible space for fitness and social gatherings.
Conversations are happening around how we as a community can provide better experiences and improve access to fitness for people with disabilities. A convening of interested stakeholders is scheduled to thoughtfully consider our environment, the strengths we have, and ideas that we can begin formalizing as a group.
Check back often as the tour continues and new leaders with meaningful projects emerge!
A  TREMENOUS 🎉 Thank You To All Of Our Partners!
Garrett County Health Department, Maryland State Parks, Beach to Peak Yoga, Habitat for Humanity, Deep Creek Lion's Club, Oakland Jazzercise, Garrett County Community Action, Fit With Jen Studio, WildWood Athletic Club, Garrett County CARC at Garrett College, Garrett Growers, Garrett County Government, Western Maryland Food Council, +More!
GC In Motion Apps
Explore the GC In Motion Website and Progressive Web App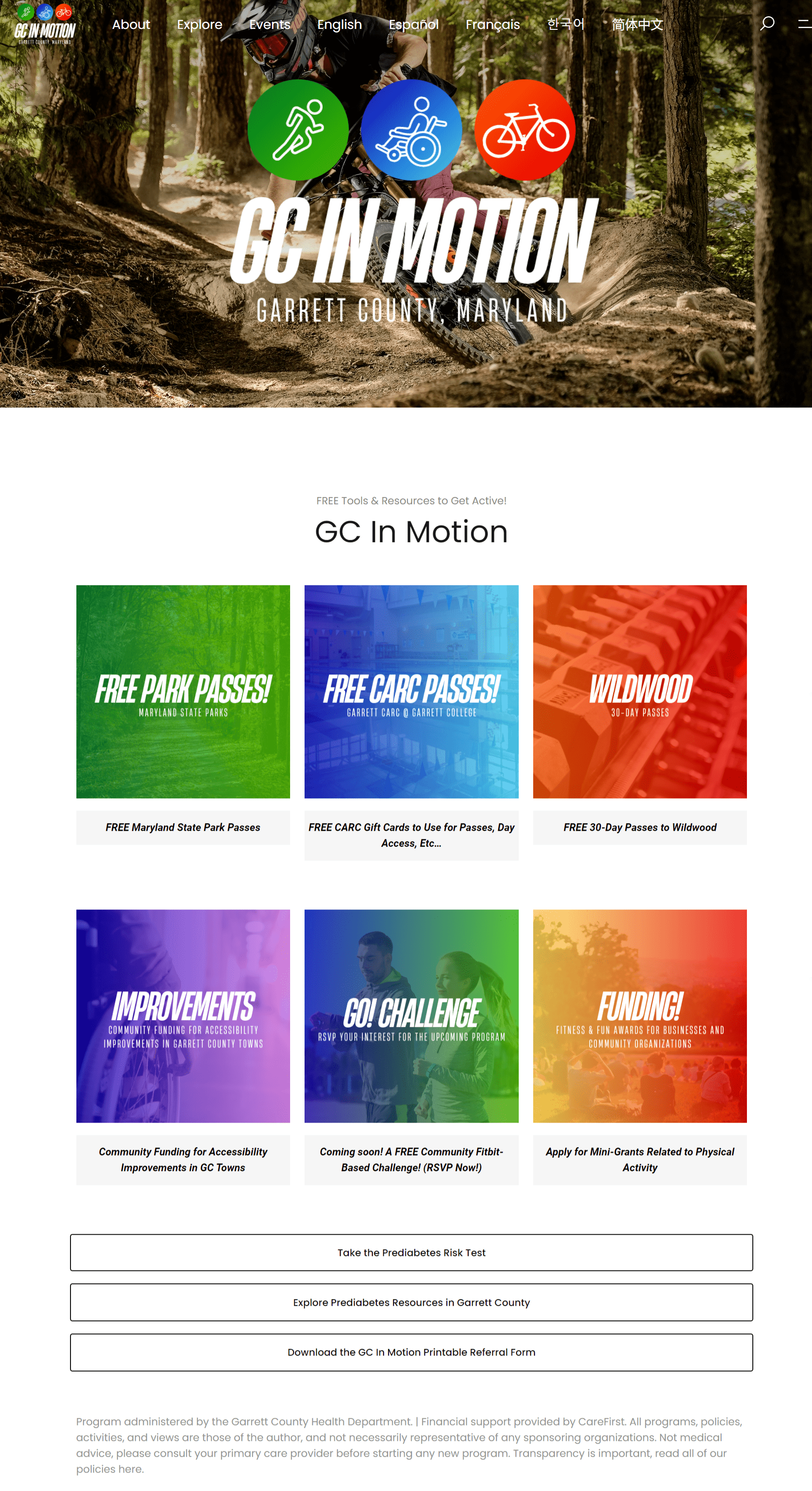 Local Data & Tracking
GC In Motion Action Group on My Garrett County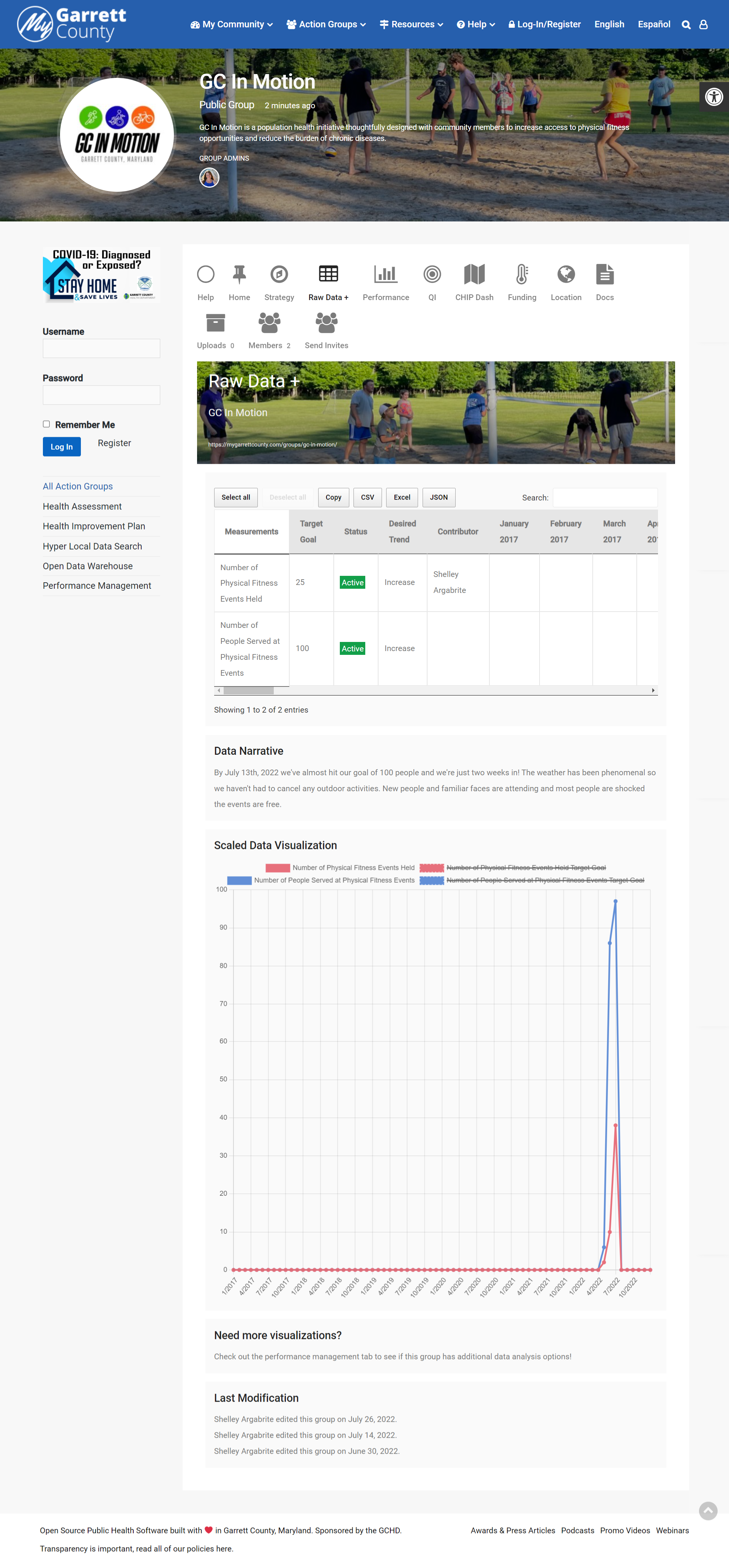 Community Events
Connect w/ Others In Your Community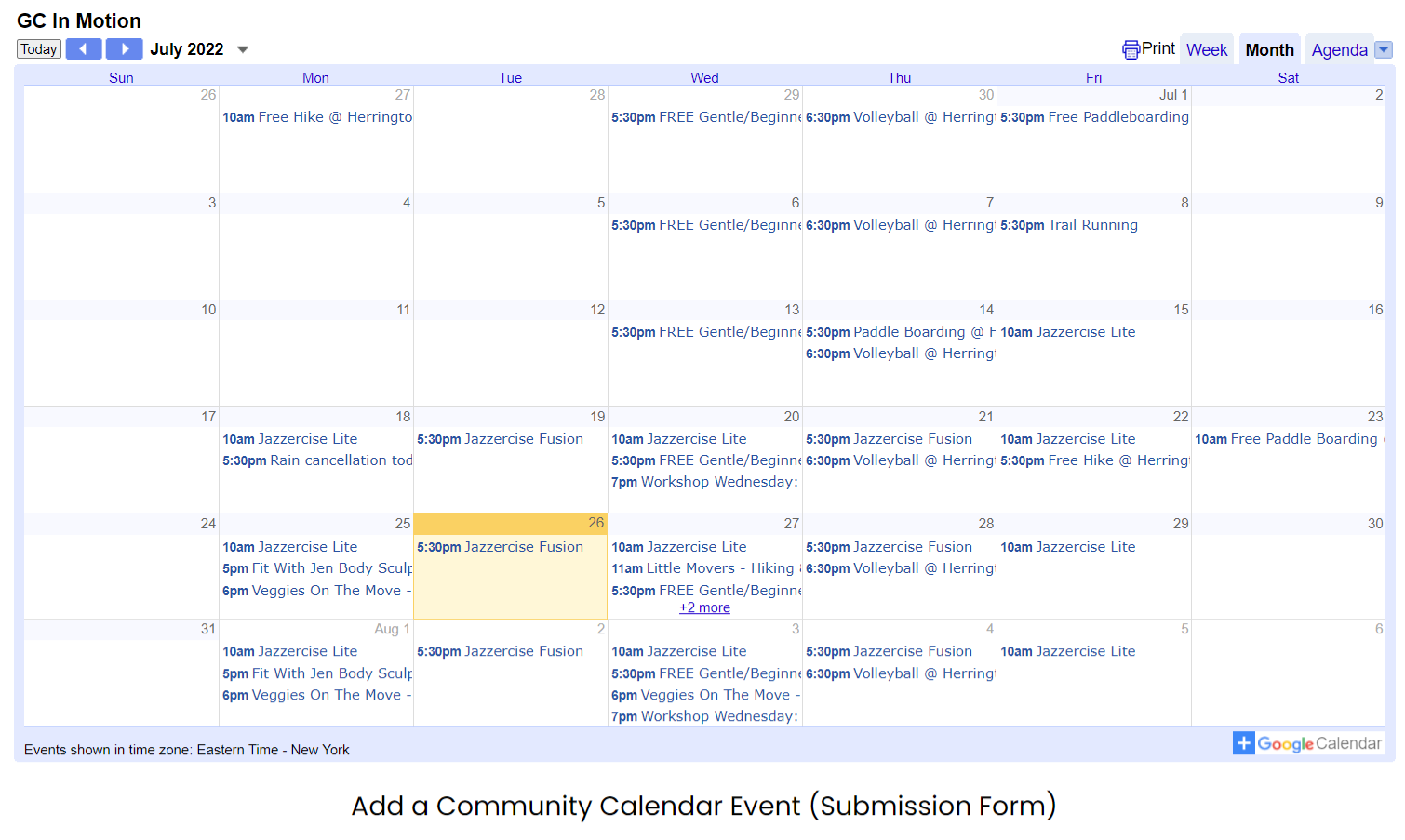 Connecting Our Community
Engaging w/ Stakeholders to Build Programs Designed By Our Community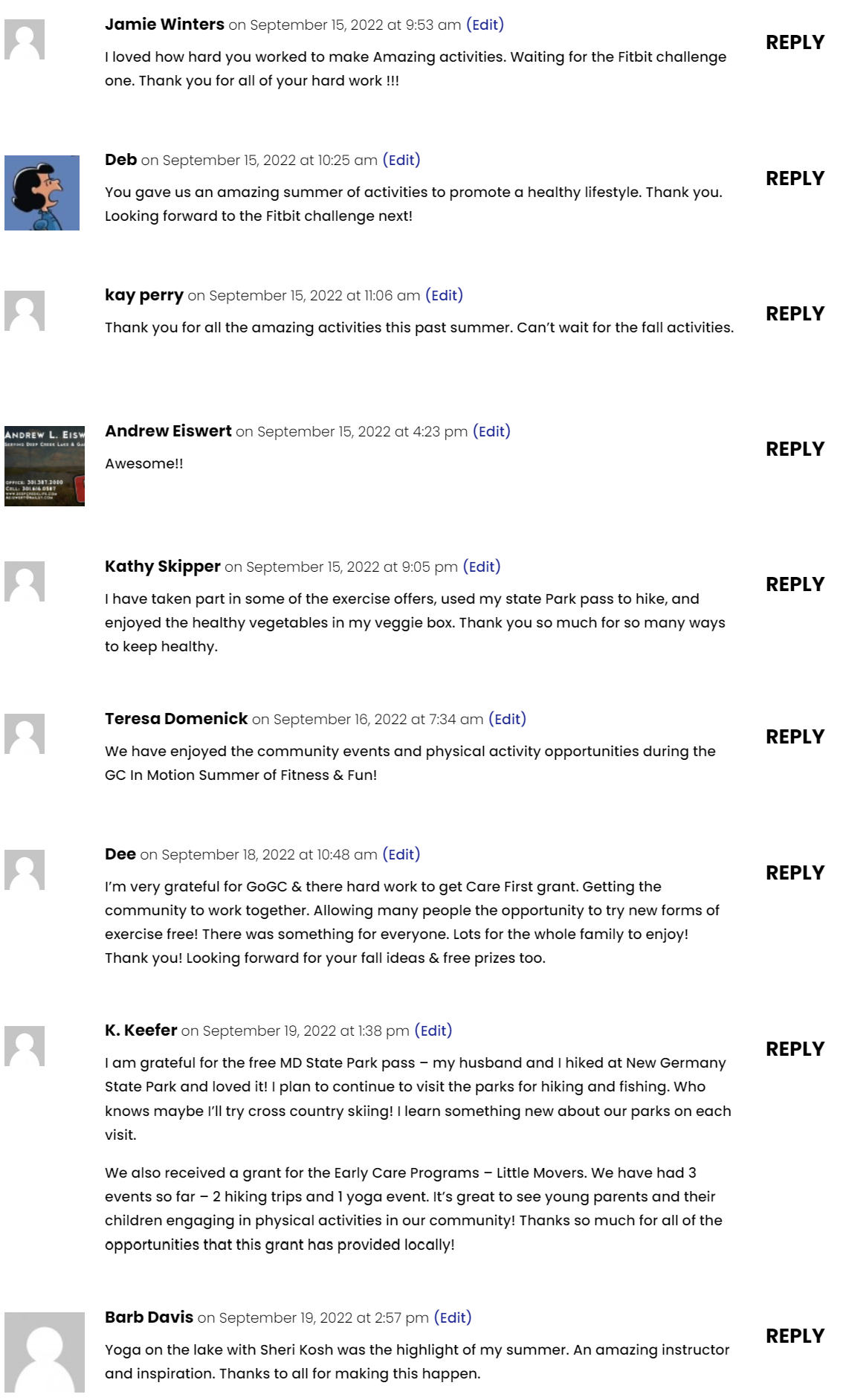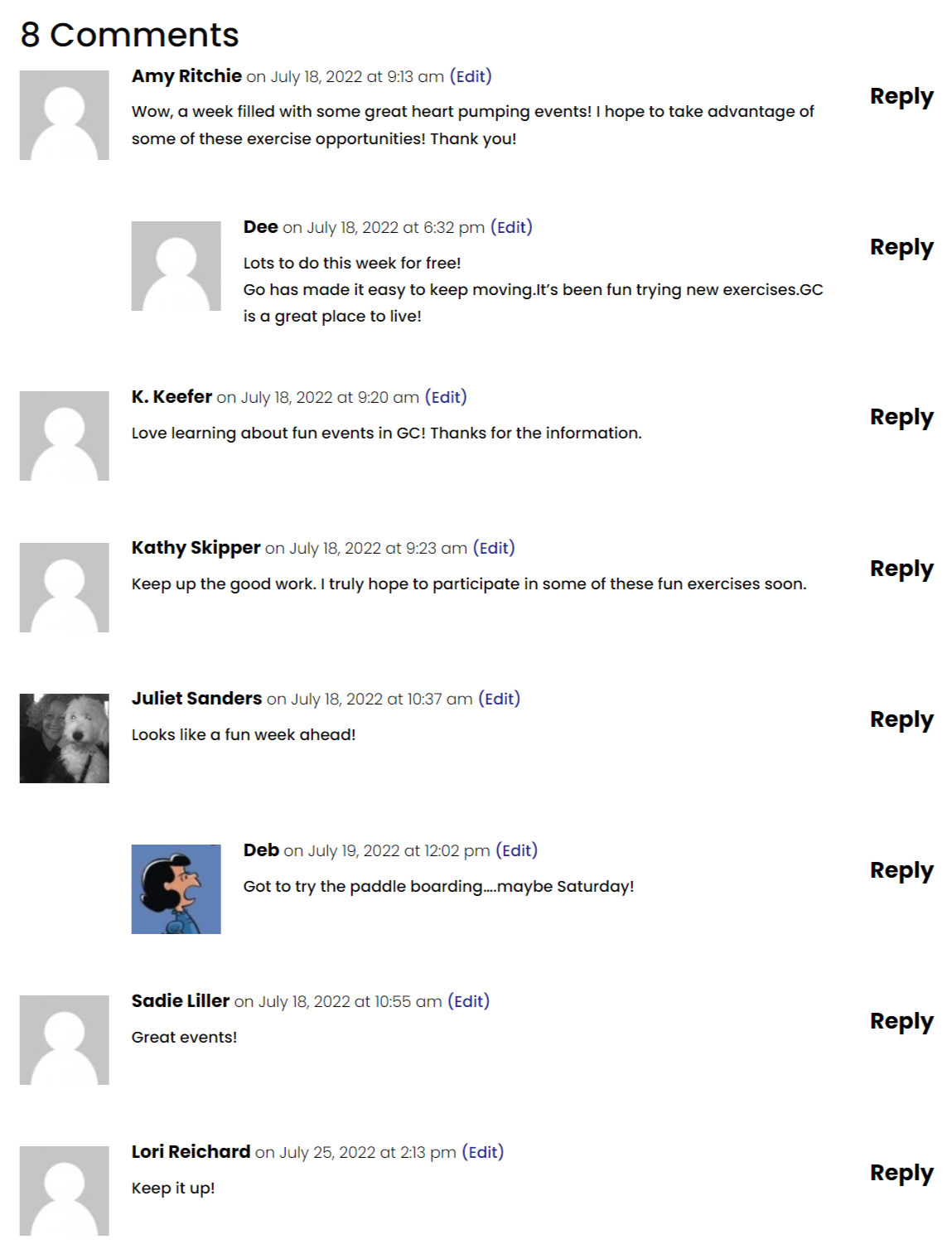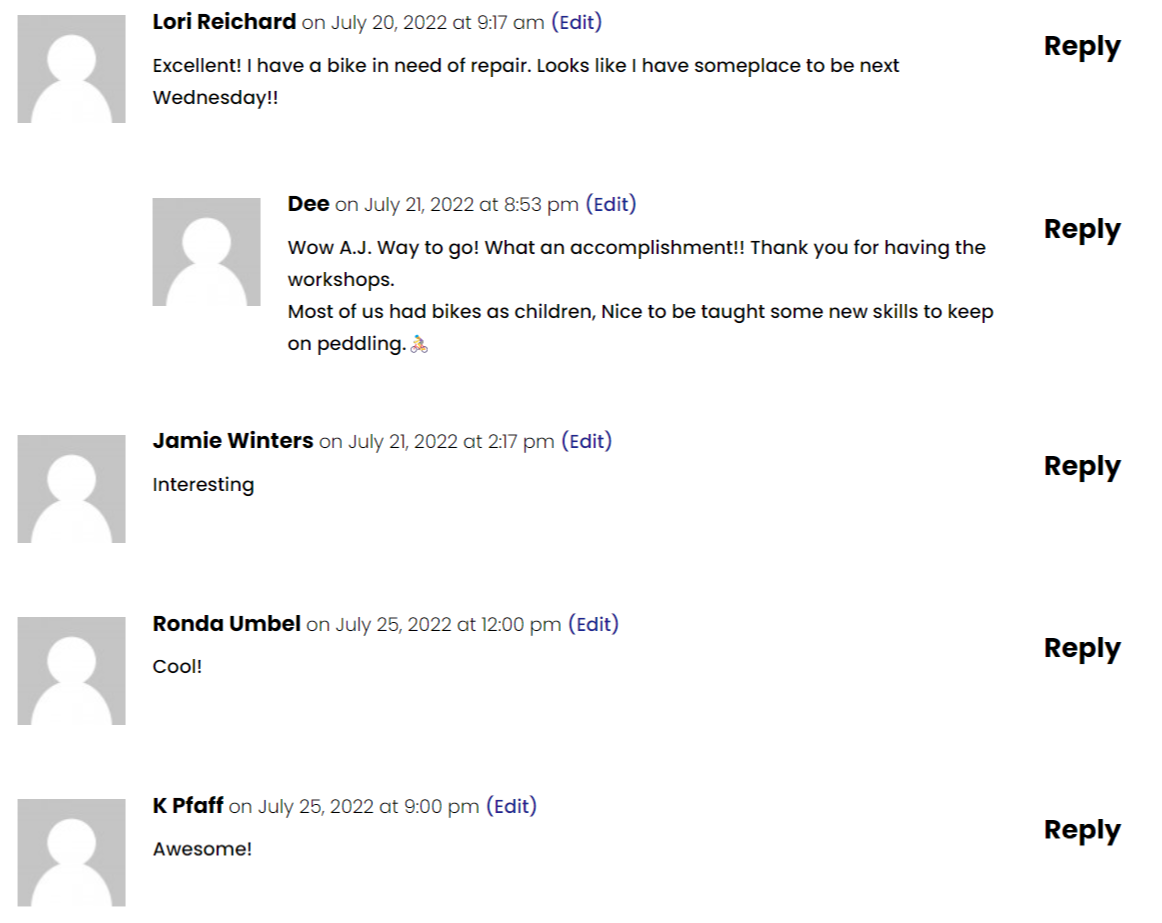 Media & Promotions
Posted on Go! Garrett County + Shared By Community Partners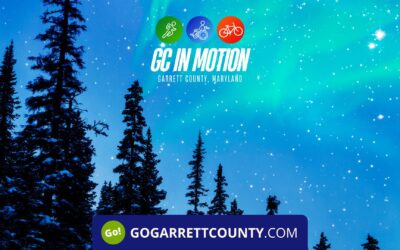 Stay strong, keep moving, and visualize yourself bringing in 2023! Do you feel confident and strong? Do you want to bring in the new year with more energy? It's your vision, be detailed as you think about what you want to feel like moving into 2023. It's a great time...
Media Gallery
Explore Community Members Experiencing GC In Motion!
Program administered by the Garrett County Health Department. | Financial support provided by CareFirst. All programs, policies, activities, and views are those of the author, and not necessarily representative of any sponsoring organizations. Not medical advice, please consult your primary care provider before starting any new program. Transparency is important, read all of our policies here.