Let's keep moving! Build purposeful movement into every day! The aim is 150 minutes of moderate-intensity activity a week, such as brisk walking. If you need a little extra motivation or just like hiking with a group of people, this activity may be for you! Ranger Luke will be guiding the hike this evening!
Thirty Prize Points will be awarded for attending each hiking event as we build our endurance for the culminating (5.5 miles) in August! If you prioritize them all and make it to each hiking event in this series, you'll get an extra 100 bonus points in August!
In case you missed it, 13 people hiked the yellow trail on June 5th! It's totally fine to jump into the series anytime. Tonight at 5:30, we will hike the Red Trail. The trail is 1.6 miles in length and is considered moderate. We'll start from the Lakehouse. This trail will take us through a mixed hardwood forest and a pine-filled forest; it has a few rolling hills to traverse!
Please wear comfortable, supportive shoes, and it's always a good idea to bring water.
Preregistration isn't required for this event because we don't need any equipment, but we would love to know if you will be joining us in the comments below!
Hope to see you tonight!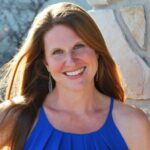 Latest posts by Shelley Argabrite
(see all)