Garrett County
Food Access & Infrastructure Initiative
Connecting rural communities across Garrett County with access to high-quality & locally grown foods + developing local systems to ensure long-term solutions to food insecurities in Western Maryland
About This Campaign
We're pleased to introduce you to our community of collaboration!
Partnerships are the key to successful initiatives, and this is no exception! The Population Health, Innovation & Informatics unit within the Garrett County Health Department received a funding award in 2022 to create a food security subcommittee within our Health Planning Council to ensure issues related to food security are included as a community priority. In addition, the funding (SPINE) allowed GCHD to improve access to fresh local produce in remote areas of the county.
A formalized partnership was created with the Western Maryland Food Council, adopting the Garrett County chapter as the subcommittee for the Health Planning Council in 2022. An Action Group titled, Food Council is the centralized community engagement hub influencing Garrett County's Community Health Improvement Plan. https://mygarrettcounty.com/groups/social-determinants-of-health/ All are encouraged to join and participate in the decisions around food security that impact many of our friends and neighbors!
Garrett Growers is the farmer cooperative supplying the produce and transportation to ensure our Veggies On The Move initiative is fully stocked and available in both Kitzmiller and Friendsville once a week. Our local library system graciously allows us to stand the markets up at their locations in each community, while our local DHS guides community members through the SNAP benefit process.
A  TREMENOUS Thank You To All Of Our Partners!
Garrett County Health Department, Western Maryland Food Council, Garrett Growers, Garrett County Government,
Garrett County | University of Maryland Extension, Ruth Enlow Libraries of Garrett County, + Our Fantastic Garrett County Community!
2023 Garrett County Food Access & Infrastructure Initiative Programming & Systems Outline
Health Strategist, Shelley Argabrite and her team at the Garrett County Health Department are leading the charge to create infrastructure in the form of a nonprofit with a multisector board which will aid in the ease of resource coordination to address food and nutrition security in Garrett County. Partners from the University of Maryland Extension, Garrett Growers, and Garrett County Government are integral partners in the effort.
This collaboration is made possible through funding from the Center for Chronic Disease Prevention and Control at the Maryland Department of Health. For the second year, the grant award, State Partnerships Improving Nutrition & Equity (SPINE), will support community collaborations through the Health Planning Council to promote food and nutrition security and stand up sustainable efforts.
Additional partners from the Western Maryland Food Council, Garrett County Farm Bureau, Mountain Fresh Farmers Markets, and others are sharing their thoughts. We've voted on a name for the nonprofit, Appalachian Farm & Food Alliance, Inc.
Partnerships with Southern Garrett High School, and WIC are providing healthy recipes, cooking demonstrations, and other tips for making affordable meals are available on the gogarrettcounty.com website. By watching videos and reading short articles on the website, Garrett County residents can earn points for gift cards, fresh produce from Garrett Growers, gas cards, and many other incentives to improve wellness.
Many faith-based and community organizations provide meals and additional resources that help food-insecure individuals and families. Part of this funding will help us learn more about the needs of those organizations and begin coordinating services where appropriate. You'll find a link to the HUNGRY brochure that was put together in 2022. If you are an organization that provides food or know of one that isn't listed please reach out to Melissa Bolyard to make sure it's updated.
Finally, the last focus area of this funding is data. Presenting what we know about food and nutrition in our community and beginning to quantify more specifically food and nutrition needs. See the Data Insight HERE: https://garretthealth.org/data-insight-2022-b-food-and-nutrition-security/
To be a part of these meaningful efforts to make Garrett County hunger-free, visit mygarrettcounty.com and join the Food Council action group found here, https://mygarrettcounty.com/groups/social-determinants-of-health/. Follow the progress with real-time data reporting and get updates to stay informed.
Garrett County Food System Mapping Survey
Garrett County Food Access Brochure
Compiled by the Western Maryland Food Council, Garrett County Chapter
Media & Promotions
Posted on Go! Garrett County + Shared By Community Partners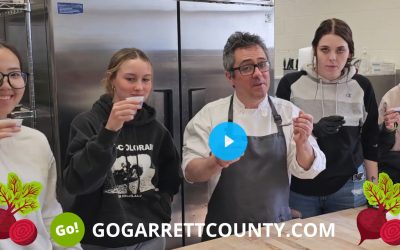 This video, in particular, made me laugh several times! I can certainly relate to smoothie fails and trying to be an encouraging taste tester when it's not as good as you were hoping! Smoothies are one of the best ways to get little ones in the kitchen; at my house,...
The State Partnership Improving Nutrition and Equity program in Maryland is a national project of the National Association of Chronic Disease Directors that is 100 percent supported under the State Partnerships Improving Nutrition and Equity program, which is supported by the Centers for Disease Control and Prevention (CDC) of the U.S. Department of Health and Human Services (HHS) as part of a financial assistance award totaling $2 million with 100 percent funded by CDC/HHS. The contents are those of the author(s) and do not necessarily represent the official view of, nor an endorsement, by CDC/HHS, or the U.S. Government.