Garrett County
Food Access & Infrastructure Initiative
Connecting rural communities across Garrett County with access to high-quality & locally grown foods + developing local systems to ensure long-term solutions to food insecurities in Western Maryland
About This Campaign
We're pleased to introduce you to our community of collaboration!
Partnerships are the key to successful initiatives and this is no exception! The Population Health, Innovation & Informatics unit within the Garrett County Health Department received a funding award to create a food security subcommittee within our Health Planning Council to ensure issues related to food security are included as a community priority. In addition, the funding allowed GCHD to improve access to fresh local produce in remote areas of the county.
A formalized partnership was created with the Western Maryland Food Council, adopting the Garrett County chapter as the subcommittee for the Health Planning Council. An Action Group titled, Food Council is the centralized community engagement hub influencing Garrett County's Community Health Improvement Plan. https://mygarrettcounty.com/groups/social-determinants-of-health/ All are encouraged to join and participate in the decisions around food security that impact many of our friends and neighbors! Garrett Growers is the farmer cooperative supplying the produce and transportation to ensure our Veggies On The Move initiative is fully stocked and available in both Kitzmiller and Friendsville once a week. Our local library system graciously allows us to stand the markets up at their locations in each community, while our local DHS guides community members through the SNAP benefit process.
A  TREMENOUS 🎉 Thank You To All Of Our Partners!
Garrett County Health Department, Western Maryland Food Council, Garrett Growers, Garrett County Government,
Garrett County | University of Maryland Extension, Ruth Enlow Libraries of Garrett County, + Our Fantastic Garrett County Community!
Media & Promotions
Posted on Go! Garrett County + Shared By Community Partners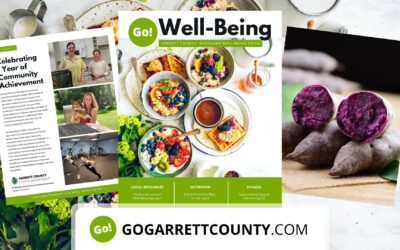 This week at the pop-up markets, we have a surprise guest, purple potatoes! Our collaboration with Garrett Growers, the Western Maryland Food Council's Garrett Chapter, Garrett County Government, and the University of Maryland Extension Office enabled pop-up markets...
Garrett County Food Access Brochure
Compiled by the Western Maryland Food Council, Garrett County Chapter
The State Partnership Improving Nutrition and Equity program in Maryland is a national project of the National Association of Chronic Disease Directors that is 100 percent supported under the State Partnerships Improving Nutrition and Equity program, which is supported by the Centers for Disease Control and Prevention (CDC) of the U.S. Department of Health and Human Services (HHS) as part of a financial assistance award totaling $2 million with 100 percent funded by CDC/HHS. The contents are those of the author(s) and do not necessarily represent the official view of, nor an endorsement, by CDC/HHS, or the U.S. Government.