Thomas trades tips and recipes with the Gnegys at the Mountain Fresh Farmers Market. There's plenty to choose from for healthy and delicious meals and snacks here but a unique cruciferous vegetable that can be eaten raw, roasted, or steamed caught his eye! This funny-looking vegetable is about the size and shape of a large orange, with leafy stems sticking out. It has a thick skin that can range from pale green to purplish, though the inside is always a very pale yellow.
Thomas let us know the leaves are all edible and great in soups or stews. The smaller bulbs tend to be more tender and flavorful, but the large ones are also fine for cooking and eating. In taste and texture, kohlrabi reminds him of peeled broccoli stems with quite a crunch! It's a wonderful addition to any veggie tray and is commonly used in salads and coleslaw.
? Enter to Win a FREE Veggie Box from Garrett Growers! ?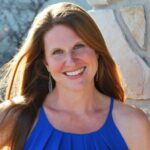 Latest posts by Shelley Argabrite
(see all)