We are delighted to bring fresh, local vegetables to our well-being participants! This segment is focused on cooking with kids, food safety, and how to extend the life of your produce. We'll see more from the DeBerry's and other new partners as our growing season takes off in Garrett County.
The Oakland Mountain Fresh Farmers Market begins on May 8th, be sure to stop by and get some fresh veggies! https://www.garrettfarms.org/oakland-mountain-fresh-farmers-market.html.
This Saturday the Civic Club will be hosting vendors at the Pavilion in Oakland's Town Parking lot. There will be a table with Mental Health resources as agencies and providers in the County have collaborated to show support and provide a way to get connected to services. Here's more information about the efforts taking place in May for Mental Health Awareness Month, everyone is invited to participate http://bit.ly/may-press-kit.
To learn more about Garrett Growers visit their site http://www.garrettgrowers.com/ be sure to check the rewards section of our site in May for an opportunity to spend your points on fresh, local food https://gogarrettcounty.com/shop/.
In this video, Cheryl DeBerry with Garrett Growers Cooperative and her daughter, Carla help us learn about fresh veggies. First, they give a quick overview of basic food safety in the kitchen (wash those hands!) Then they dig into the veggies they found at the farmers market this week.
Fresh Lettuce Head: Remove any discolored outer leaves. Chop the stem end, separate the leaves into a bowl. Fill with cold water, swish the leaves gently, then lift out of the water into a colander. If there is sediment in the remaining water, dump it out and repeat the washing until the water is clean. To dry the lettuce, put it in a clean laundry lingerie bag, take it outside, and spin it in a circle rapidly. To store, place in a plastic bag with a dry paper towel and seal, then keep in the fridge.
Pea Shoot Microgreens: These tender little greens can be cared for and stored the same way as lettuce. Use them in salads, in sandwiches and wraps, in scrambled eggs, or straight out of the bag.
Kale: Wash, spin dry, and store just like lettuce. Strip leaves off the stems, set aside stems for later use. Tear leaves to the desired size. Chop stems to add to the pan ahead of the leaves for the needed additional cooking time.
Tomatoes: Remove stems, rinse under running water. Then chop as needed. Store on the counter, stem side down. Do not refrigerate unless they are sliced.
Green Garlic: Store in a plastic bag in the fridge until ready to use. Trim root end and remove any discolored leaves. Wash thoroughly. Chop for use anywhere you use garlic. The greens are great in a salad!
Potatoes: Three types of potatoes are displayed: Red, White, and Purple. The red and white potatoes are not considered a vegetable portion in a diet and should be treated as starches. The purple potato has a lower glycemic index and may be a better choice for people with diabetes or pre-diabetes. Wash potatoes thoroughly using a veggie brush. Then chop for your recipe.
Super Easy Salad Recipe: Place veggie salad ingredients (use whatever you have – they had lettuce, kale, pea shoots, tomatoes, and green garlic tops) in a bowl. Splash with a little lemon juice and add a sprinkle of sea salt. Gently toss and serve. The lemon juice brightens the flavor of the salad for a fresh taste!
Thanks to the University of Maryland Extension for the use of their kitchen facility.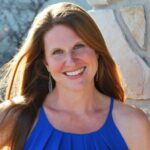 Latest posts by Shelley Argabrite
(see all)