Taking a moment to reflect upon our successes is so essential for our mental health. Life is full of things that keep us busy and every once in a while, let's pause and think of all that we've accomplished and just how far we've come in such a short time!
What was your goal when you started the Challenge? Are you closer to achieving your goal? Perhaps it changed, and you needed to tweak it a bit. That's okay; in this Challenge, we want you to make it personal. Reflect on your goals and do everything you can to move closer to them. If that is with a team, do what teams do best and support each other to move closer to your goals during the week!
John Corbin and I are a team at work; we utilize the strengths we both bring and have a creative flow that challenges each of us to focus on our purpose and ensure our work is making a difference. We also make up part of a team for this Challenge; it's a different dynamic, but our team uses the Fitbit Workweek Hustle, and we cheer one other on, as well as compete in a friendly and fun way! If you want to learn how to set up your Workweek Hustle on your Fitbit with your team, visit this post: https://gogarrettcounty.com/walktober-day-2-creating-fitbit-challenges/ .
Today let's celebrate our 5 million steps as a collective team walking from Garrett County to California in just four weeks! Jamie W, can we make it back home in less than four weeks?
In the comments below, post the name of someone in your life that encourages, challenges, and motivates you to be your healthiest self!
There are more ways to win coming next week! First place still wins 100 points, second place wins 75 points, and third place wins 50 points!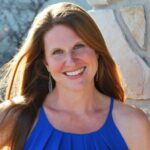 Latest posts by Shelley Argabrite
(see all)