If you had to choose, would you rather "go on a diet" or "choose an enjoyable, sustainable eating plan?" Diets are short-term; eating plans are long-term. Diets seem restrictive; eating plans have more freedom. But what exactly is an eating plan?
An eating plan is a thoughtful, intentional way of matching our energy (caloric) needs with the best nutrition for our unique circumstances, preferences, and lifestyles. Eating plans are part of the "nutrition" pillar of obesity treatment, alongside behavioral health (the "brain game"), physical activity (finding fun in fitness!), medication & molecules, surgical procedures when appropriate, and my favorite…COMMUNITY! Eating plans lead to memorable meals…and shared meals build community!
How and what we eat is more than just nutrition. Hippocrates, the "father of modern medicine," said, "Let food be your medicine and medicine by your food." He recognized that food has powerful effects on our bodies, some helpful and others harmful. Our eating plans should intentionally include the "good stuff" while choosing to exclude things that promote obesity, inflammation, and illness. The "good stuff" is typically fresh, whole, and close to its natural form; the "not so good stuff" has ingredients that sound like a chemistry experiment or processing that takes it far away from its natural state. An increasing number of studies link ultra-processed foods with inflammation and illness and trans-fats are recognized as harmful. We have a choice. Eating plans help us make health-promoting, wellness sustaining choices!
Tips for healthy and delicious eating:
Include a variety of colors! Fresh vegetables and fruit are packed with antioxidants, vitamins, fiber, minerals, water, and other phyto-nutrients that fight inflammation.
Get your goods locally whenever possible. Fresher = better!
Get most of your energy from foods closest to the natural state.
Include healthy fats and oils like extra virgin olive and/or avocado oil, fatty fish like salmon, and nuts.
Enjoy a variety of animal and plant proteins. Think local! Pasture raised, free range, grass fed…your local farmers can be excellent allies! Get to know them and learn where your food comes from!
Choose to exclude ultra-processed, highly refined, or chemically altered foods.
Choose to exclude products containing refined carbohydrates, excess sugars, and high fructose corn syrup. Added sugar increases insulin, the hormone that signals extra calories to be stored as fat.
Try serving your food on a smaller plate. Several studies have shown this to help us feel fuller sooner with meals.
Drink a large glass of water before your meal (and throughout the day!)
Be mindful! Take small, deliberate bites, chew thoroughly, and challenge yourself to taste everything!
Enjoy! Pause, reflect, talk to others, and slow your eating so satiation and satiety clues,
Eating plans should also be enjoyable and satisfying. In today's video, I demonstrate how simple, fresh ingredients quickly become a colorful, phyto-nutrient rich meal to satisfy the mind, body, and soul…especially when shared with others! The abundance of fresh vegetables provides filling fiber and water content, enhancing our sense of fullness while eating (satiation) and after the meal (satiety). These effects are further promoted by protein packed, and tantalizingly tasty grilled chicken. The recipes, linked below, can be easily modified to accommodate eating preferences and are fun to prepare with family and friends.
Plan what you eat, eat what you plan…and plan to see your body celebrate health, enjoyable, and sustainable eating plans! And when it is time to eat, include others at your table and build some community, because together, we can do this!
Special shout out to the University Of Maryland Extension Service for the use of their kitchen!
Recipes
Mediterranean Salad with Grilled Lemon Garlic Chicken
Serves 4-6 (depending on serving size)
This fantastic, phyto-nutrient rich summer salad is a festival of flavor and freshness! The protein packed lemon garlic chicken will make your palate pop and leave you feeling satisfied. The versatile salad adapts well to many Mediterranean flavors. Feeling Italian? Add some cubed salami and cheese. Going Greek? Add some olives and feta! Prefer seafood? Substitute shrimp or a firm fleshed fish for the chicken. But whatever you choose, enjoy this meal with people you love because everything tastes better when shared together!
The Preparation Sequence
Gather the goods (Check out the Mountain Fresh Farmers Market on Wednesdays and Saturdays!)
Clean and dry the vegetables
Make the dressing
Chop the onion, place it in a salad bowl, and cover with half the dressing.
Prep the remaining vegetables, place in the salad bowl, mix well, cover, and refrigerate until ready to serve.
Cut the chicken, place in a separate bowl with remaining dressing/marinade, and refrigerate for at least two hours.
Clean up
About 20 minutes before your planned eating time, skewer the chicken and grill, broil, or pan sear until cooked through.
Serve, eat, and enjoy!
Dressing and Marinade
½ C Lemon juice, freshly squeezed (4 ounces, about 4-5 lemons)
1 C Extra virgin olive oil (8 ounces)
1-2 cloves Fresh garlic (½ to 1 tablespoon)
1-2 tsp Salt, to taste
½ tsp Freshly cracked black pepper
Easiest: Place lemon juice, olive oil, and garlic in a blender and blend at high speed until well emulsified. Add salt and pepper to taste.
Easy-ish: Finely chop the garlic. Place lemon juice and olive oil in a large mixing bowl and whisk together until well emulsified. Add the garlic, salt and pepper to taste, whisk again and adjust seasoning.
Taste and adjust lemon and seasoning to your preference (you can try making it stronger for marinade…extra garlic and lemon = YUM!)
You can also place all the ingredients in a glass jar with a lid and shake vigorously until well blended. (Great for storing too!)
If the dressing separates, simply blend, whisk, or shake it again!
Mediterranean Salad
3 C English cucumber, diced 1 pound 3 cups
10 oz Tomatoes, diced (about 1 pint of cherry or grape tomatoes or
4-5 Roma tomatoes)
½ C Red onion, diced ½ medium onion
1 C Yellow bell pepper, diced 1 pepper
2 C Flat leaf parsley (about 2 bunches)
¼ – ½ C Fresh Mint (about 1-2 ounces)
3-4 Green onions (spring onions, scallions)
Optional (Be creative!):
Italian: Consider adding cubed hard salami and cheese with some fresh oregano,
pepperoncinis, and some Reggiano Parmigiano (real Parmesan cheese!!!)
Greek: Try adding some olives and feta with a little tzatziki on the side!
Lebanese: Toss the salad with some chopped romaine, red radishes, and toasted pita for a Middle Eastern classic. Feeling adventurous? Look online for some ground red sumac and pickled turnips!)
Chop or dice red onion into ¼" pieces, add to salad bowl, and top with half of the lemon-garlic dressing (this "pickles" the onions and reduces their bite a little bit)
Cut the cucumbers in half lengthwise, remove the seeds, dice into ½" cubes, and add to the salad bowl.
Remove and discard the tough lower half of the parsley stems. Roughly chop the remaining parsley leaves and tender stems into ¼ to ½" pieces and add to the salad bowl.
Cut the cherry or grape tomatoes in half and add to the salad bowl. If using Roma tomatoes, remove the seeds and watery gel like center, dice the seeded tomatoes into ½" pieces and add to the salad bowl.
Slice the green onions into thin circles and add to the salad bowl.
Finely chop the mint, add it to the salad bowl, and toss all the ingredients until the dressing coats all the pieces (this will help prevent the mint from turning brown).
Taste your creation and add salt and pepper to taste!
Optional adds: If using cheese (feta, mozzarella, etc.), add it to salad immediately before serving. If using salamia, olives, radishes, or pepperoncini, add them after the mint, toss well, and taste.
This salad is best served on the day of preparation…but I often eat this over 2-3 days and enjoy how the flavors develop with time. I even eat it for breakfast with eggs or falafel!)
Grilled Lemon Garlic Chicken
1 ½ pounds Chicken breast or thighs (six 4-ounce or four 6-ounce servings)
(boneless)
¾ C Lemon-garlic marinade (above)
Salt/Pepper Lightly, to taste (before grilling)
6 skewers (metal or bamboo)
Optional: lightly sprinkle chicken with smoked paprika, cayenne, and chili powder for more color and flavor.
Cut boneless chicken into 1 ½ – 2 inch pieces and place in a bowl.
Add half of the dressing/marinade ( ¾ C / 6 ounces) to the bowl with chicken and mix well, making sure all pieces are coated with marinade.
Cover and refrigerate for at least two hours.
Place 5-6 pieces of chicken per skewer .

Note: Soak bamboo skewers in water before using on a gas or charcoal grill to prevent them from burning.

No skewers? No problem! Broil chicken about 4-5 inches below oven broiler or on the stove in a lightly oiled skillet.
Lightly season with salt/pepper and optional spices (above).
Grill over medium high to high heat for 6-8 minutes or until cooked through. Be sure to turn the skewers over after 3-4 minutes.
Serve alongside your delicious salad!
Nutrition Information
Mediterranean Salad with Lemon Garlic Dressing
Nutrition per serving
Number of Servings
Calories Per Serving
Carbs
Fat
Protein
Sodium
Sugar
4
303
11
30
4
34
2
6
202
7
20
3
22
1
8
152
5
15
2
17
1
Grilled Lemon Garlic Chicken
Nutrition per serving
Number of Servings
Calories Per Serving
Carbs
Fat
Protein
Sodium
Sugar
4
310
0
10
52
128
0
6
207
0
6
35
85
0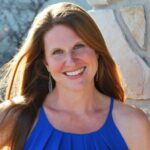 Latest posts by Shelley Argabrite
(see all)