Learn what's available from local farms this time of year, and how to store, prep, and cook these yummy items.
Featured this week:
Strawberries: Store in fridge in original container for no more than a couple days. Wash under running cold water, then lay out on paper towels to dry. Remove stem and leaves. Slice or use whole.
Kohlrabi: Store in fridge. Wash under running cold water. Remove leaves. Peel bulb. The inside is the consistency of a potato but tastes more like cabbage or broccoli. Great raw as veggie sticks, or slice and sauté in butter, or coat with a little oil and roast.
Oyster Mushrooms: Store in fridge in a paper bag. Brush away any visible debris with a mushroom brush or clean dry toothbrush. Tear or chop for your recipe. These are great sauteed with garlic in butter or olive oil.
Fennel: Fennel has a slight anise/licorice flavor. Store in fridge until ready to use. Wash under running cold water. The leaf stems can be tough, so reserve those for soups. The frilly leaves/fronds can be used fresh like dill or parsley. Chop the bulb to use in stir fry, sauté, or roast it for a treat.
Oregano: Store in a cup of water, covered loosely with a plastic bag, in the fridge. Rinse then gently dry. Strip leaves from stems and discard stems. Chop leaves for use in your recipe.
Lettuce, Kale, Chives, Tomatoes: These were featured in previous videos! Check those out to learn more!
Recipe Ideas:
Buttered Kohlrabi and Mushrooms
Peel and thinly slice 1 medium kohlrabi. Melt 1 tsp. of butter over a skillet on high heat. Add the kohlrabi, and cook for 1 min. Then add 2 tbsp. water and 1/4 tsp. dried basil leaves (or a few fresh ones). Cover, and cook for 4 min. Add 3/4 c sliced oyster mushrooms, and cook while covered until the kohlrabi and mushrooms are both tender, about 4-5 min. Remove from heat. Top with Parmesan cheese and salt and pepper to taste.
Pistachio Oregano Pesto
Preheat oven to 350. Spread 3/4 c coarsely chopped, raw pistachios on a baking sheet and bake for about five minutes, until toasted. Let them cool completely. Combine the pistachios in a food processor with 2 chopped garlic cloves, 1 chopped anchovy fillet, 1/2 c chopped oregano leaves, and 2 tbsp. lemon juice. Pulse the mixture until combined. Add 3/4 c olive oil, and pulse until you have a coarse sauce. Season with salt and pepper to taste.
Thanks to the University of Maryland Extension for the use of their kitchen facility.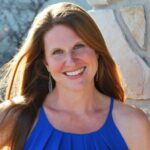 Latest posts by Shelley Argabrite
(see all)