It's the first day of our County Step Challenge, and we are inviting you to take those steps with the power of self-compassion! Acknowledging the difficulties in our lives and being kind to ourselves can positively affect our mental wellbeing. Our challenge isn't about comparing ourselves to others; it's about helping each person meet their goals for movement. If you're like me, I have great intentions for getting up earlier and heading to the gym, taking extra time and going on a long hike, or taking that jog that I know makes me feel great. I even schedule exercise into my calendar, but more often than not, I prioritize everything else ahead of my scheduled workout. Missing my workouts can lead to feelings of defeat and burnout.
For this challenge, I'm personally going to set an achievable goal for myself. I'm simply going to acknowledge the slight vibration of the Fitbit around my wrist, gently reminding me to move every hour. I will take five minutes away from whatever task is ahead of me and take as many steps as possible during those 5 minutes each hour. Utilizing the technology on our wrists and staying mindful about how often our bodies and minds need us to move is one way to begin changing behaviors that can prevent chronic diseases. I'm treating this first week of the challenge as a baseline to see how many steps I get in a day. I intend to also stick to my regular exercise when I purposefully increase my heart rate (zone minutes) to maintain my weight and give me that "endorphin dump," the feel-good chemicals our bodies naturally make when we exercise.
In the comments below, share your goal for our challenge this week, and let's be the healthy, supportive online community every person needs.
On World Mental Health Day, If you or someone you know is in crisis related to suicidal ideation, substance use, or other mental health emergencies, you can call the national mental health crisis hotline, 988. Callers interact with counselors that are specifically trained to handle mental health emergencies.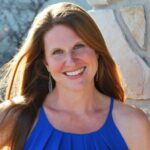 Latest posts by Shelley Argabrite
(see all)