This February, the 58th American Heart Month, the AHA is urging people all over the country to "reclaim your rhythm." What does that mean? Quite simply, the AHA is encouraging people to reclaim control of their mental and physical well-being after two difficult years of the COVID-19 pandemic.
"It's been two years. We're tired. We're burnt out. We're just trying to get by. But today is the day – it's time reclaim your rhythm, pick your playlist and put on your favorite red look with your jams turned up. Get moving, bring the good vibes and take back control of your health and mental well-being. Little steps add up to big changes from dancing with your kids in the kitchen, to grooving with your girlfriend's. Staying active is one of the best ways to keep your body and mind healthy. Stress can lead to unhealthy habits and managing stress means managing your health. So reclaim control of your schedule and build in time to invest in a healthier, you! Know your numbers and make moves to help keep your blood pressure on track. Go red for women will be here every step of the way. So let's do this together and create healthy habits today. That will lead to healthier tomorrow's."
How will you reclaim your rhythm?
Join the discussion! How will you reclaim your rhythm today? (and you'll even earn 5 bonus points each day, if you are logged into your Go! account and share).
(Please note, your first comment on Go! GC is manually approved to prevent spam. After your comment is approved, you will automatically be awarded bonus Prize Points. Once you have one comment approved, all future comments will be automatically approved.)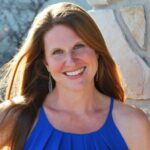 Latest posts by Shelley Argabrite
(see all)