Quinoa Salad is one of my favorites that the whole family enjoys, and I always double the dressing and enjoy our local maple syrup in this recipe. It's better on the second day and is an energy-filled, nutritious snack!
Suppose you've had the opportunity to experience the first signs of sap starting to run from the beloved maple trees in Western Maryland or taste the maple syrup made here. In that case, I'm sure you'll appreciate the art. Try your maple syrup in a new healthy dish this week using quinoa! It's eaten the same way as a whole grain, but it's actually a seed. The Incas first grew quinoa (KEEN-wah) for food in the Andes about 7,000 years ago. The Incas believed the food was sacred because eating it regularly provided a long, healthy life. Quinoa is high in protein, calcium, Vitamin B, and iron and is gluten-free! 
Protein Punch
2 cups cooked quinoa (to package instructions)
3/4 cup chickpeas (drained & rinsed)
1/4 cup dried cranberries
1/4 cup scallions (thinly sliced)
3 tablespoons olive oil
juice of 1/2 lemon
1 teaspoon whole-grain mustard
1/2 tea. maple syrup
Combine olive oil, lemon juice, maple syrup, and mustard for the dressing. Combine all ingredients in a bowl.
Submit Your Steps/Activity & Zone Minutes this week!
A Go! Garrett County member shared with me that raking and working in her flowerbed was a nice boost to her activity level now that we've had a few lovely days to work outdoors. We choose daily how we are going to care for ourselves. Make it a great day, walk, eat something nourishing, and breathe deeply for a few moments reflecting on the goodness in your life!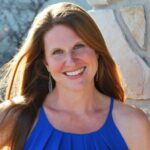 Latest posts by Shelley Argabrite
(see all)