Every Wednesday at 5:30 we'll be in the grass near the boat launch from 5:30-6:30 through the summer! Don't miss it tonight, remember we have so much space to spread out and there are plenty of spots to be in the back of the class 😉
You don't need a mat, a towel works too! The class is free but we do ask that you sign up with Sheri, if there is a change because of rain (we are hoping the rain holds off) or if you need a gentle reminder signing up ahead of time ensures we can communicate information to you.
Register here: https://www.schedulicity.com/scheduling/BTP8KU/classes
Please arrive 15 minutes early to sign in, set up your mat/towel, and say hello!
If the grass is really wet or we have a VERY strong chance of rain, we will cancel the class and notify you via email.
Feel free to contact Sheri at [email protected].
Please check out Sheri's other class offerings by visiting her website https://www.beachtopeakyoga.com/
I'll be there around 4 today if anyone wants to ride before yoga. If you have your own mountain bike bring it along. If not, we have 10 fat tire bikes for free. They are first come, first serve! Ranger Luke will be guiding us on this short beginner ride. We leave from the lake house at 4:30, rain or shine! There will be some elevation but the trails are relatively free of rocks and roots.
This is truly shaping up to be a summer of fun in Garrett County, make the most of the free opportunities to get active and maybe even make a few new fitness pals!
These free classes are made possible because of Sheri Kosh, from Beach To Peak Yoga's commitment to making the benefits of yoga available to anyone in the community. Sheri is one of our community partners through the GC In Motion Initiative, dedicated to making fitness opportunities free and available to Garrett County! Ranger Luke is delighted to host us and the staff at Herrington continue to be amazing partners! Check out the events calendar on gogarrettcounty.com to see other free family-friendly fitness opportunities.
About GC In Motion:
An application was submitted by Shelley Argabrite representing the Population Health, Innovation & Informatics Unit within the Garrett County Health Department for the competitive funding from CareFirst BlueCross BlueShield and was awarded $92,986 dollars. The funding is part of a larger goal for 34% of Marylanders to be at a healthy weight by 2024!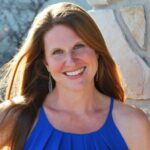 Latest posts by Shelley Argabrite
(see all)