This platform is designed to bring a wide range of topics, resources, and inspiration to you on this journey of well-being to live a life that is as healthy as it can be for each of us. Since it's heart month I decided to look up the role of gratitude and heart health- turns out there's quite a bit for us to explore! Today I'm bringing you one of my favorite podcasts, the Huberman Lab. The information Andrew Huberman brings is fascinating to me. It's a longer listen, but it may resonate with you and really make a difference in your life. As always take what serves you and leave the rest behind.
Andrew Huberman says, "The neurochemical, the anti-inflammatory, and the neural circuit mechanisms that gratitude can invoke are equally on par with some of the effects of pharmacology. Things like high-intensity interval training, exercise, and other things that we think of as kind of more potent forms of self intervention. So if you are of the mindset that a gratitude practice is kind of weak sauce, buckle up, because the data actually points to the fact that a gratitude practice is a very, very potent way in which you can steer your mental and physical health in positive directions, and that those effects are very long-lasting."
Around twenty minutes into the podcast Andrew also says, "we now know with certainty that a regular gratitude practice can shift the pro-social circuit so that they dominate our physiology and our mindset in ways that can enhance many, many aspects of our physical and mental health by default. So we don't always have to constantly be in practice trying to be happy. So the succinct way of saying all this is yes, indeed, we might be wired in such a way that we have a greater propensity for unhappiness than happiness. But gratitude practices, provided they are the effective ones and they're performed regularly, can shift those circuits, such that we are happier on average, even when we are not performing those practices."
Then he tells us how to do it and backs it up with science! It's pretty cool!
Join the discussion! Do you have a gratitude practice? Does anyone have a story that they might use in a new gratitude practice explained by Andrew Huberman? Were you challenged by this one, or motivated to do this? (and you'll even earn 5 bonus points each day, if you are logged into your Go! account and share).
(Please note, your first comment on Go! GC is manually approved to prevent spam. After your comment is approved, you will automatically be awarded bonus Prize Points. Once you have one comment approved, all future comments will be automatically approved.)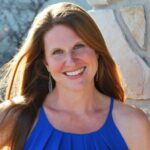 Latest posts by Shelley Argabrite
(see all)