Our Go! FOR IT challenge is live, helping you work hard to meet your goals! We'll continue utilizing all our local resources to support you on your journey via gogarettcounty.com. You get to tailor your experience based on the area you want to focus on, and you'll earn points along the way. All you need to do is fill out the simple tracking form, available here https://gcinmotion.garrettcountyapps.com/, join us today! Many participants indicated they are focusing on weight loss. Here's a helpful video and a recipe below!
Salmon filets are often on sale at our local Shop N Save. I buy approximately 2 lbs, which serves four, and I have leftovers for lunches the next day. I often steam broccoli to serve with the salmon and the entire meal is approximately $5.00 per person. Here's a recipe my mom shared with me years ago, and it's a family favorite!
Maple Glazed Salmon
4 Tablespoons Maple Syrup
1 1/2 Tablespoons Apple Juice
2 Teaspoons Hoisin Sauce
1 1/2 Teaspoons Grated- Peeled Fresh Ginger
1 Teaspoon Country Style Mustard
1/4 Teaspoon Five-Spice Powder
Combine the first seven ingredients; pour on the fish. Marinate in the refrigerator for about 15 minutes. Place fish (skin side down) in foil, ensuring the sides touch the fish to form a shallow baking dish (so the marinade doesn't burn). Then, place it on a cookie sheet.
Broil for 12 minutes at 525 until fish flakes easily. Use a fork to test.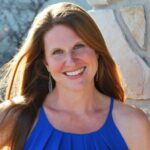 Latest posts by Shelley Argabrite
(see all)