Cheryl DeBerry with Garrett Growers Cooperative and her daughter, Carla prepare some greens they found at the farmers market with two delicious and nutritious recipes. Please refer to Video 1 for some food safety tips and for how to wash and prep greens and green garlic for cooking.
Kale Chips:
Preheat oven to 400 degrees.
Place parchment paper on a cookie sheet for later use.
After stripping the leaves from the stems, tear leaves into bite sized pieces. Reserve the stems for the next recipe.
There are two ways to prep the leaves for baking:
Place the leaves on the baking sheet in a single layer, then spray with cooking oil spray.
Place the leaves in a plastic bag with a little olive oil, then squish it around to coat the leaves. Place in a single layer on the baking sheet.
Lightly sprinkle the leaves with salt. Bake for about 7 minutes, or until the leaves are dried and the edges are lightly browned.
Remove from oven, then cool and eat!
Sauteed Greens:
Chop some green garlic into 1/4 inch pieces (or use minced regular garlic). For a 1 gallon bag of greens, we use one full green garlic or 2 garlic cloves.
If using larger greens, remove stems, chop stems into 1/4 inch pieces and tear leaves into 2 inch pieces. If using tender young greens, you can skip this part!
Heat 1 tsp olive oil in a skillet over medium.
Add garlic, stir, and let cook for a few minutes until fragrant. Do not brown.
Add 2 Tbs water and chopped stems, if using. Cover and cook stems until tender, about 3-4 minutes.
Add 2 Tbs water and greens leaves. Cover and cook until wilted (2-3 minutes for tender young greens, 4-6 minutes for larger greens)
Remove lid, stir, and cook until fully wilted down but not slimy, about 2 minutes more.
Transfer greens to a plate, add a splash of balsamic vinegar and a sprinkle of salt. Serve.
Thanks to the University of Maryland Extension for the use of their kitchen facilities! Also, thanks to James for videoing.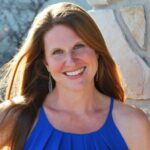 Latest posts by Shelley Argabrite
(see all)