Physical Activity is one of the things we can do to maintain our treatment of obesity and diabetes. There's a trinity of our physical activity that we're looking for and that is STRENGTH, CARDIO RESPIRATORY FITNESS, and FLEXIBILITY. We want to encourage you to do these different types of physical activity in a safe manner. Finding a community of people is very helpful. A fitness pal oftentimes makes it harder to skip out on exercise. Leaning on one another helps us stay on track and can make physical activity more fun.
This time of year as the days get shorter, and the nights get longer, our bodies respond with a circadian rhythm response that makes us a bit more insulin resistant, meaning we store more calories for winter.
To help us avoid putting on extra weight during "eating season" (Halloween through Superball Sunday) plan to balance some of the heavier carbohydrate foods with a lot more vegetables (buy local when you can). Remember it's not just limiting calories, it's also choosing more nutrient-rich foods and boosting our metabolism by moving! Physical activity helps us lower insulin resistance that we naturally have more of as the seasons change and get colder.
Keep Moving Garrett County, We Can Do This Together!
BONUS! Take a photo at the Farmer's Market or a local trail and email it to [email protected] for a bonus 10 Go! Prize Points! (Photos must be submitted by Friday, November 5th, 2021)
How did you do with your fitness goals today? Did you get in your 6,000 steps?, 10,000 steps? Join the discussion below, and you'll earn 3 MORE prize points each day during Walktober!
(Please note, your first comment on Go! GC is manually approved to prevent spam. After your comment is approved, you will automatically be awarded bonus Prize Points. Once you have one comment approved, all future comments will be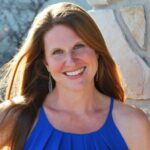 Latest posts by Shelley Argabrite
(see all)