NO worries just because Sharon is standing in front of the sign, we are not riding the 5 1/2 mile trail for the event tomorrow! We are riding on the perfectly groomed, wide, cross-country ski trails! In case you still need some convincing and help with how to prepare yourself- Sharon breaks it down for us! The forecast is looking beautiful, with a high of 48 degrees and maybe a little sunshine! I'm leaving my heavier jacket at home, checking my bag twice for my gloves and neck gaiter, and bringing a change of clothes for after the ride!
There are still bikes available to use for tomorrow, so call Sarah today at 240-321-9925 if you need a bike at no cost to you! Perhaps you are curious and want to meet some great people but are not interested in riding tomorrow, please stop by! This is the first of many events Deep Creek Adventure Bureau will be hosting. Talk to Sarah and let her know the types of activities you would like to see.
It's going to be a beautiful day, make the most of it for your health and wellbeing! Pups are welcome too so bring the whole gang and let's have some fun!
Join the discussion below by answering the prompt (What outdoor activity brings you the most joy?), and you'll earn 5 MORE prize points for each post through the end of the year!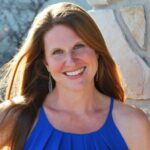 Latest posts by Shelley Argabrite
(see all)