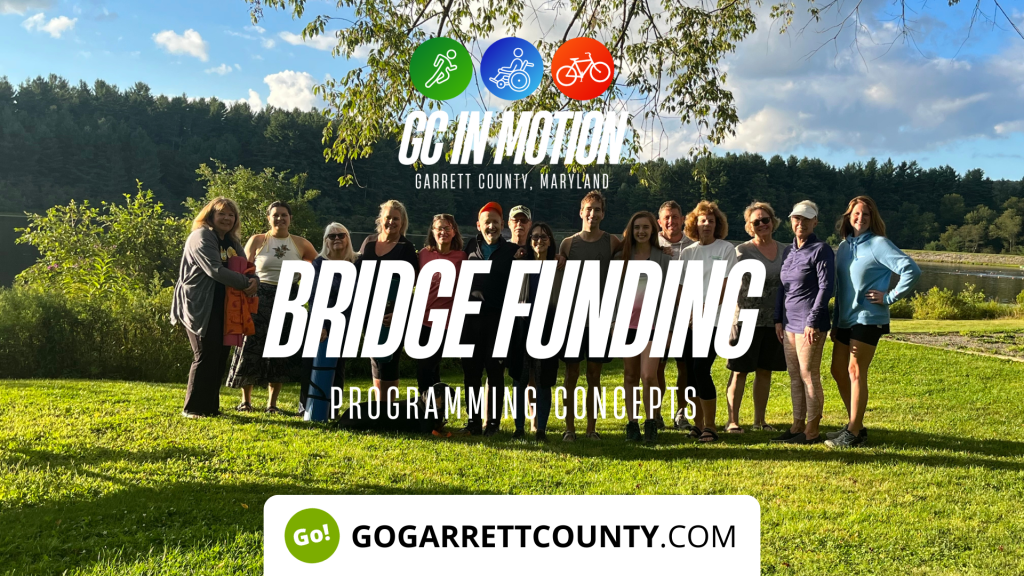 CareFirst 2023 Bridge Funding Concepts
Veggie Boxes / Agricultural Partnerships

Expand partnership with Garrett Growers and local farmers to provide additional access to locally grown and healthy foods, with an additional focus on vulnerable and resource-limited individuals.

Grab N' Go! Food Kit Partnerships for Food Insecure Patients, Students, and At-Risk/Actually Homeless Individuals

Work with Mountain Laurel Medical Center, Garrett County Public Schools, and the Garrett Resource Center (Advisory Organization for SUD/Homelessness)

Garden to Go!

Develop a program to provide resources, starter kits, and education for individuals to develop supplemental gardens at their homes or congregate living locations to create an ongoing supply of locally grown fruits and vegetables. Including lessons on seed harvesting to make the initiative sustainable for years to come.

Go! Outside – State Park Passes/Prescriptions

Renew the park pass program to target individuals who are still on the program waiting list and work with local providers to provide additional stakeholders with access to Maryland State Parks.

Step/Activity Challenge

Expand the popular step/activity (for individuals with limited mobility/physical disabilities) to include local primary care providers and behavioral health therapists.

Prevention w/ Providers (Primary Care and Behavioral Health)

Host mindfulness walks in coordination with primary care and behavioral health providers utilizing natural resources and to provide touchpoints to connect with providers with an array of expertise.

Health & Well-Being Coaching

Expand opportunities and access to coaching resources for individuals to work on personal goals, related to health, fitness, nutrition, sleep, emotional well-being, and fulfillment & purpose.

Expand Built Environment Projects

Provide additional community-level funding for the improvement of accessibility in the built environment.

Develop Additional Accessibility Maps

Expand on the existing trail system resources to provide additional information for providers to make recommendations and for individuals with disabilities to better access trails with improved accessibility.

Food Insecurity Data Collection

Expand evidenced-based data collections to better understand food insecurity and the impact of food deserts in remote communities as we experience a county-wide acceleration in food insecure individuals.

Data to Action

Review Socially Determined data, as available, and additional datasets to prepare a brief for our Local Health Improvement Coalition (Health Planning Council), community providers, and grassroots leaders to inform their work on social determinants and their impact on health outcomes.