Farm to Table Ratatouille by Thomas George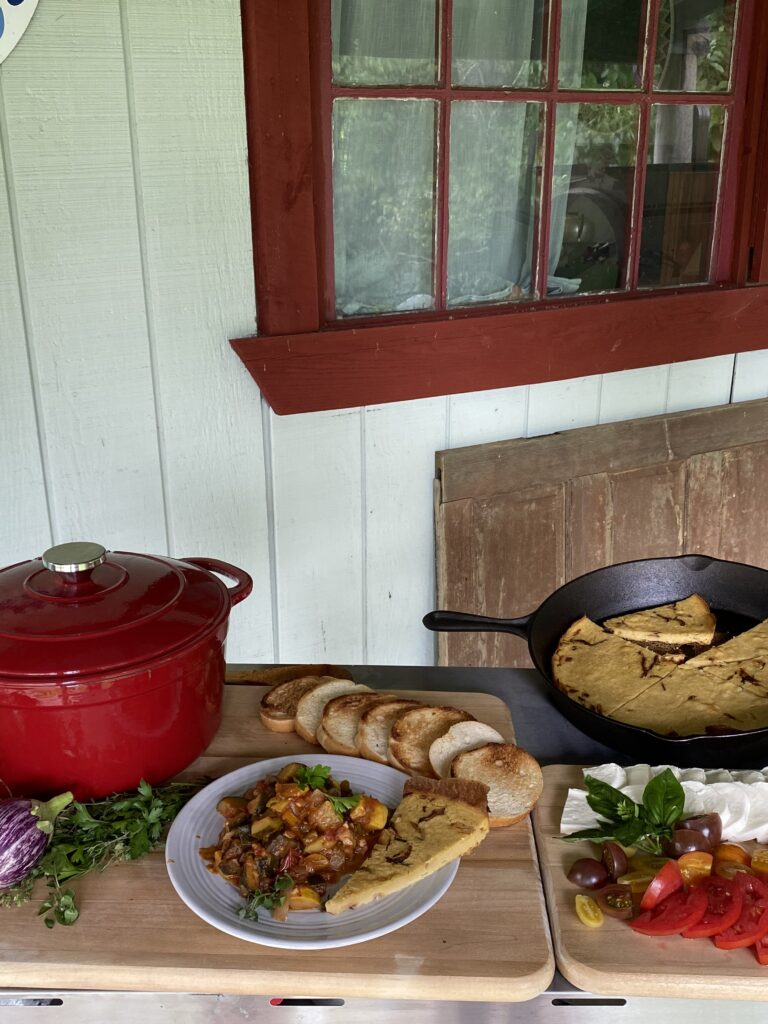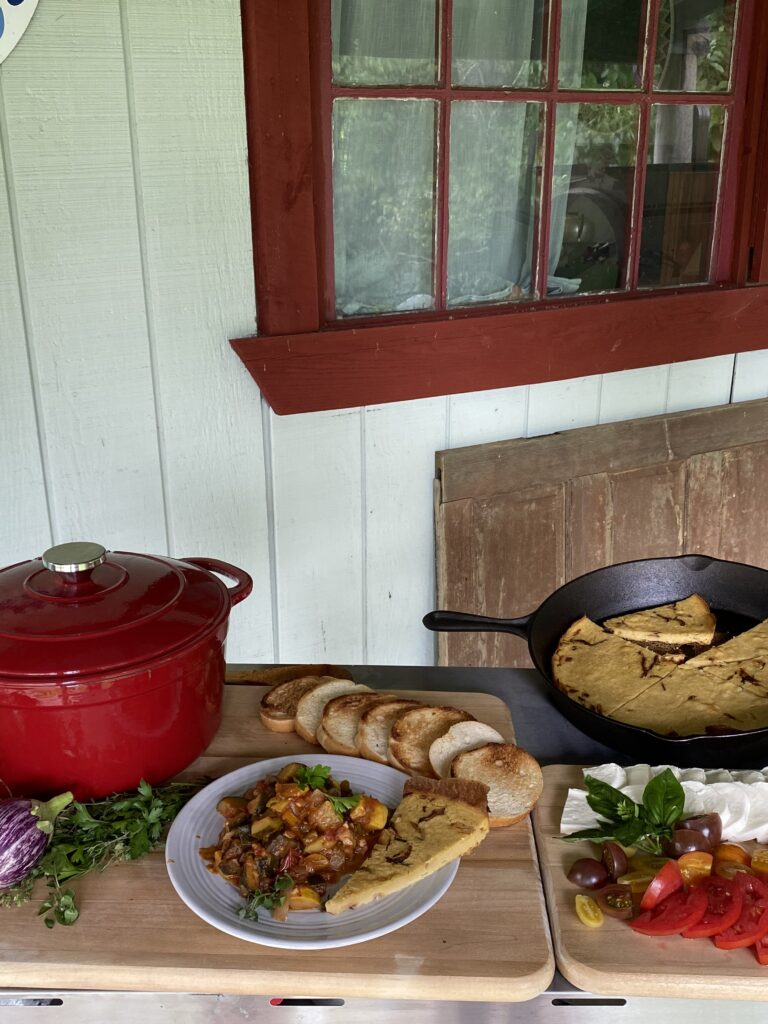 Farm to Table Ratatouille by Thomas George
Instructions
Saute onions in about 2 T of extra virgin olive oil (EVOO) in a dutch oven or large sauce pot over medium to medium-high heat until translucent, soft, and just starting to brown on edges (6-8 minutes)

Add HALF of the finely chopped bell peppers and saute 3-4 minutes until starting to soften.

Add chopped garlic and HALF of fresh thyme and oregano, stirring 1-2 minutes. If you choose to use wine, add about 1/2 to 1 C wine and cook until reduced by half its volume.

Add chopped tomatoes and 1 teaspoon salt, reduce heat until simmering. Add 1/2 tsp black pepper and optional red pepper flakes. Stir and reduce heat to maintain a gentle simmer uncovered for 20-30 minutes or until sauce thickens to desired consistency (similar to a marinara or fresh tomato sauce for pasta).

While tomato sauce simmers, heat a cast iron or similar skillet over medium-high heat with 1 1/2 T EVOO and a pinch of salt. Saute the yellow squash until lightly browned, remove from pan and set aside. Repeat with remaining zucchini, then eggplant, and finally, the other HALF of finely chopped bell peppers. Add additional EVOO as needed between each set of vegetables to prevent sticking and to allow for light browning. (Alternatively, vegetables could be tossed in EVOO and a pinch of salt, then roasted in a hot 475 F oven until lightly browned).

Taste tomato sauce and adjust seasonings (salt and pepper). Add fresh chopped basil and the remainder of fresh oregano and thyme. Add the browned vegetables, stir, and adjust heat to maintain a gentle simmer.

Simmer uncovered for 15-20 minutes or until vegetables are tender but not mushy. Adjust seasoning to taste.

Sprinkle a little finely minced fresh oregano, thyme, and basil over the dish when right before serving.

Serve this versatile dish by itself, with a side protein (grilled fish or poultry works well!), and/or a crusty French baguette. Or, consider making some soca (farinata), a garbanzo bean bread common in the South of France and Northwestern Italy.

The Basque region (Spain) has a similar dish that is served with a fried egg and crusty bread...delicious!
Tomatoes, Squash, Locavore