Citrus Garlic Marinade (Mojo Criollo) for Flank Steak shared by Thomas George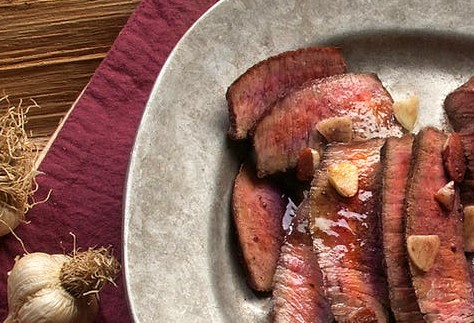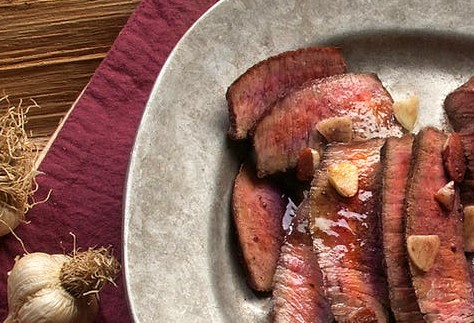 Citrus Garlic Marinade (Mojo Criollo) for Flank Steak shared by Thomas George
Instructions
Whisk citrus juices, salt, and oil together in a bowl until well emulsified. (May also use blender). Add additional ingredients and adjust for taste and heat. It should be slightly salty.

Place flank steak in a one gallon plastic bag or large bowl, add enough marinade to cover all surfaces and refrigerate for at least 2 hours (but no longer than 12). Refrigerate any unused marinade.

Cooking the flank steak: Remove meat from marinade, dry with paper towels, and let meat come to room temperature (approximately 45-60 minutes). If grilling, preheat your grill to medium-high heat about 20 minutes prior to cooking.

Season meat with salt and pepper. If using a cast iron skillet, preheat over medium high heat, add 1-2 tablespoons avocado oil (or similar oil with a high smoke point), and make sure all interior surfaces of the skillet are well coated. Once the oil starts shimmering (and not smoking), add flank steak to pan, flat side down. Cook for 3-5 minutes until nicely browned, then flip steak and cook for another 3-5 minutes. Reduce heat to medium, flip steak again, and continue cooking until internal temperature reaches 125-130 F (medium rare to medium). Remove from pan to cutting board, cover with aluminum foil and allow to rest.

Remaining marinade can be added to hot skillet and used to sauté sliced onions and peppers.

After the meat has rested, use a sharp knife to make thin slices ACROSS (perpendicular to) the grain of the meat. Serve upon a salad or fresh tortillas, accompanied by pico de gallo, pickled onions, and fresh cilantro.